Many of you will know me as the non-paddling bloke who has helped organise the odd lecture or film festival for Lakeland Canoe Club.  It was not always like this!  Since I relocated from South Yorkshire to Kendal in 2015, I have not paddled many times as I have been experiencing recurring problems with my ears – a condition that is commonly known as 'surfer's ear'.  Infections, blockages, deafness and dizziness have all become frequent experiences but, like any seasoned, old school kayakist, I just ignored these minor irritations and accepted that it is the price to pay for the thrills and pleasure of whitewater, surfing and occasional sea paddling trips.  Unfortunately, I ignored the medical condition too long and have had to undergo painful treatment at Royal Lancaster Infirmary…..but more of this later.   
Before offering a warning and going into the gory detail of my medical condition, a brief history of my paddling career to offer some context to this saga.  I started paddling at age 15 years old (rather scarily, over 55 years ago) with my first taste of kayaking adventure was surfing with a school friend at Saundersfoot, South Wales.  The boat was a canvas single seater which we paddled together (very snug) with no spraydeck, buoyancy aid or airbags!  There was not much recognisable as surfing but somehow we avoided drowning, had lots of swims and simply laughed our way through the experience…….I was hooked!  In the coming years, I served my kayaking apprenticeship in homemade, glass fibre boats on the rivers of Yorkshire, Derbyshire and N Wales with the occasional foray to the Yorkshire coast to surf or do a trip….happy days that meant 1 day paddling and 3 or 4 days repairing the boats.  Fast forward a couple of decades during which time as a teacher I picked up personal and coaching qualifications, paddling at every opportunity and introducing many youngsters and teachers to the wonderful, wet (and often) cold world of kayaking. 

During the period my family were growing up, along came the 'plastic revolution' with new, radical design boats (eg Spuds, Dancers, Corsica S etc); the opening of artificial sites in the 1980s (particularly Holme Pierrepoint, Afon Trywern and Teeside); and generally better equipment (eg Palm, Yak, Werner et al).  Then kayaking went into 'three dimensional mode' as the 'new' sport of 'hot dogging' became popular with competitive 'rodeos' and 'radical moves' – if you managed an 'ender' you were cool; if you managed a 'pirouette' followed by 'surfing a stopper' pretending to 'play air guitar' you had a good chance of winning a bottle of Jose Cuervo Tequila!  Then came 'the Scottish years' using the rather sketchy guide book written by Ian Lochead + Phil Todd we paddled (or portaged!) most classic rivers with some epic moments (eg verglas in the Spean Gorge, Findhorn with Andy Jackson, shuttle on bike in blizzard in Glen Orchy etc).  All this meant spending significant periods getting trashed in stoppers, upside down….or swimming!  
My first visit to the Alps did not come until I was 40 years old and the next decade was spent mainly in the Briancon area where we had a home for 5 years with the odd visit to Austria, Italy and Slovenia.  By this time most of my paddling mates were injured, giving up, getting divorced, discovering other adventures or all of these together!  I was about to 'hang up my paddle' just as my son started his 'year out' that actually spanned 10 years of travelling the globe as a ski saisonnaire and raft guide/safety boater.  What could I do?  As part of my parental responsibility, I was obliged to visit my son and paddle on the Ottawa, the Zambesi and the White Nile, the latter on 3 separate occasions to celebrate surviving to my 60th year!  
that history, you will appreciate that a lot of water has passed through my ears during all this time!  Over the last few years, it became harder to clear my blocked ears after kayaking or surfing and I did experience a few minor infections.  When I remembered, I did wear ear plugs but found they did restricted hearing to a degree and hindered communication on the river.  However, in August 2017 I went to a favourite old haunt in Northern Spain and, as usual, thrashed around in the surf on a board, in a kayak and went swimming in the breakers without ear plugs.  This resulted in really painful ear ache for several days on a scale I had never experienced before – the only option was to go to the local Spanish A&E and seek advice and treatment.  I was greeted with some mild amusement with my E111 card and reminded that it would only be valid for another year….thanks Brexit!  Within minutes, I was ushered into the doctor's surgery who diagnosed an infection, prescribed anti biotics, advised that I do not go in water and suggested I arrange to see my GP on return to the UK.  Dutifully in September 2017, I arranged to see my GP, Dr Bruce Helme, at the Station House Surgery.  Fortunately, Dr Helme had spent time working in New Zealand and, having been something of a surfer, immediately recognised the surfer's ear condition.  Basically, surfer's ear is a narrowing by bone growth (exostosis) of the outer ear canal to protect the inner ear and ear drum – quite a sensible defence response.  The problem is that water and debris can get in but cannot get out leading to infection and putrid discharge – this is what causes the earache!  We discussed the nature of the condition and the options of surgery but advised against as it is unpleasant, not always successful, can cause damage to nerves in the face and may require a lengthy recovery period.  He advised that I should always wear ear plugs and that we should keep the condition under review.
All went well for the next year – I kayaked in Slovenia, surfed and swam in N Spain and went swimming in the UK always wearing ear plugs.  Then, in Sept 2018, after entertaining my 18-month-old grandson in the Riverside Hotel swimming pool (without ear plugs), I experienced intense earache, chronic deafness and bouts of nausea and dizziness.  Without overdramatising the situation, this was one of the most painful and disconcerting periods of my life that lasted several weeks.  After several sleepless nights, I was back at the doctor's surgery and after a quick examination Dr Helme diagnosed a serious infection in my right ear, called the Acute Surgical Unit at Royal Lancaster Infirmary and, to my surprise and delight, organised an appointment the very next day with Mr Eltabal, ENT consultant – good old NHS!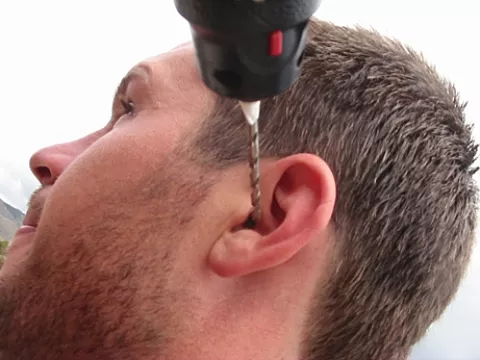 Mr Eltabal was outstanding in terms of his care, understanding and professionalism.  He explained that the only effective course of action was to probe through the narrowed ear canal and try to remove the debris and infection.  If you can imagine having root canal treatment without an anaesthetic, then you begin to understand what this procedure involved!  Simply, it involved using a micro suction pump (felt like a Henry Vacuum!) and a curette, a surgical instrument for scraping and cleaning (felt like a pick axe!).  He removed lots of grit, debris and gunge (a skip full a la Hancock?!) that clearly had been in my ear for some time and then 'injected' anti biotic ointment that lasted until the next treatment.  
Mr Eltabal informed me that my case was being discussed by at the ENT team meetings because it was 'really interesting'!  With my fame for having 'interesting ears' spreading rapidly at RLI, Mr Eltabal called in his colleague Mr Raheem for a second opinion and, much to my relief, they agreed that surgery would not be necessary at this stage.  Over a 3-week period, the excruciatingly painful process outlined above was repeated until, eventually, the infection cleared, my hearing was restored and I was discharged.  But not before Mr Eltabal had gripped my arm firmly and made me solemnly promise to avoid immersion in cold water and to "always, always wear ear plugs in water, even when showering"!!
What is the point of writing this saga?  The answer is that if a few folks take heed of these gentle warnings and take some simple action you will save yourselves a lot of unnecessary pain, medical treatment and possibly worse in later years.   To avoid developing surfer's ear always wear ear plugs – ear plug technology has improved tremendously in recent years.  If you really want to be extravagant you can get custom made ear plugs but they cost well over £100.   Personally, I like Doc's Pro Plugs that work for me and are only approximately £15 – a small price to pay to avoid lasting damage to your ears.  Additionally, there are some excellent products on the market that address the issue of keeping water out but letting sound in – have a look at these web sites but, be warned, there are some gruesome pictures!            
Some useful web sites: 
https://magicseaweed.com/news/surfers-ear-an-inconvenient-truth/6276/
Bob Gibbs
15/12/18